Which celebrities vape? April 29 2014,

0 Comments
by Robert Pagano
A few years ago, before vaping reached the mainstream popularity it has today, Katherine Heigl appeared on the David Letterman show vaping on an e-cigarette. Since then, several celebrities have joined in on the vaping movement.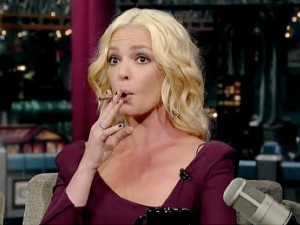 Here is her appearance on the David Letterman show, vaping with an e-cigarette.
As you can see, like most vapers, she started with the cheap e-cigarettes and advanced to higher end vaporizers.
Katy Perry is one of the latest celebrities to be seen vaping, using one of the more high end vaporizer models instead of the cheap cig-a-like versions that many of celebrity vapers tend to use. 
John Cusack is another one of the more high profile celebrities who has taken to vaping the higher qualities setups, as opposed to the cheap gas station e-cigarette brands. 
These are just a few of the high-profile celebrities who've started vaping. Other celebrity vapers include: Leonardo Dicaprio, Jack Nicholson, Lindsay Lohan, Paris Hilton, Sean Penn, Kevin Connolly, Britney Spears, and many others. 
Sign up for our email list using the form below for the latest vaping news!